Northern Utah Mustang Owners Association began in 1996. We are now sponsored by the Performance Ford Bountiful and we are grateful for their support. We are celebrating 27 years in 2023!
Members participate in many local events. NUMOA has monthly meetings with speakers and/or activities. We regularly attend JC Hackett cruise-ins throughout the summer season, car shows, cruises, parades, and events. NUMOA has had displays the past couple of years at the Auto Expo. We were the first local club invited to have such a display. Members also proudly show their ponies at the annual Auto Rama. We caravan together to several out of town shows and events such as the Rocky Mountain Mustang Roundup and Wells Fun Run. NUMOA has also developed a terrific relationship with the Utah Motorsports Campus. We attend race events and have held our own at the track. Check out our schedule on our event calendar.
NUMOA is registered with the state of Utah as a Non-Profit organization. Since the first car show at Valley Fair Mall, NUMOA has made contributions to charities. We've  donated to the Women and Children's Shelter, Utah Food Bank, and Carroll Shelby's Charity. In 2003 NUMOA created a Mustang Christmas tree which was sold for over $1000 at the Primary Children's Festival of Trees. IMAFS profits have annually been donated to the Primary Children's Medical Foundation. A contribution was also made to Lee Iacocca Diabetes Research. NUMOA is the first car club to make contributions to "Thanks 2 Frank. com." NUMOA participated in a fund raiser to help the town of Wells, NV after a devastating earthquake. Members also are generous to help out fellow gearheads in times of need as in 2016 when we raised $6000 for our member Jeff Page who was paralyzed in a biking accident. In 2017 NUMOA donated $4,000 to Shriners Hospitals for Children and $5000 to the Fisher House in Salt Lake for 2018. Last year enough money was raised to grant 3 wishes to kids in the Utah Make A Wish Foundation in honor of our member Doug Page's son Wyatt. For 2023, NUMOA has chosen The Children's Justice Center as our beneficiary charity.
IMAFS: (Intermountain Mustangs and Fords Show)
The first NUMOA car shows from 1996 until 2000 were held in the Fall at the Valley Fair Mall in West Valley City. In 2001, the Intermountain Mustang & All Ford Stampede, a three day event, was begun in Heber City, Utah. For the past 5 years, the event was held in Park City Utah. In August 2017, The Homestead Resort in Midway, UT was the host and again for the 2018, 2019 and 2020 show. In 2021 and 2022 IMAFS was held art the Junction in Odgen, Utah. In 2023 IMAFS is returning to Heber City, Utah. For more info on the 2023 IMAFS, click here. IMAFS includes a Pony Trails mountain cruise, photo shoot, BBQ, car show, and awards banquet. We've had Mustang and Fords, Mustang Monthly, and Mustang Times photojournalists attend IMAFS numerous times. See some of those articles here. This has given several NUMOA members the opportunity to have their cars published in national magazines.
With the success of IMAFS, NUMOA leaders wanted to share our fun. We were accepted to host a 2004 Mustang Club of America National show. It was the first Western US MCA National show in many, many years. Since then MCA has become more popular and more National shows are coming West. In 2012 we hosted a Second MCA national show in St George Utah and hope to host another one in the near future.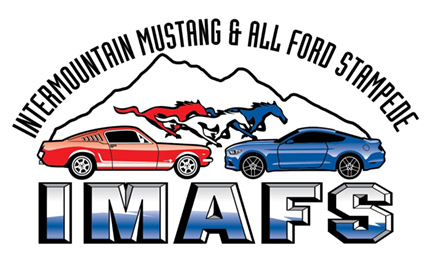 President: Dave Park
Vice President: Guy Brown
Secretary: Angela Brown
Treasurer & Membership: Randy Thompson
Activities Coordinator: Angela Brown
Sponsor Liaisons: Steve Raleigh
Cruise/Event Coordinator: John Somerville
Tech Advisor: Doug Liechty
Webmasters: Scott Parry
Newsletter Editor: Jack Sanford
Newsletter Editor Assistant: Howard Johansen
Show/Trip Chairperson:
Dave Sutton
IMAFS Show Chairperson:
Randy Thompson
IMAFS Assistant Chairperson: Lisa Maddux
IMAFS/MCA National: Scott Halladay
MCA Regional Representative: Pete Marron
NUMOA President's Hall of Fame
1996 Doug Herman
1997 Scott Olsen
1998 Brain Blater
1999 Travis Blanchard
2000 John Northrup
2001 Mike Epperson
2002 Marc James
2003 Ken Giles
2004 Dan Zumbo
2005 Cathy Bradley
2006 Norm Batt
2007 Alan Hamburg
2008 Joyce Epperson
2009 Jay Bryner
2010 Pete Marron
2011 Doug Liechty
2012 Steve Raleigh
2013 Ryan Walton
2014 Guy Brown
2015 Josh Minson
2016 Pete Marron
2017 Scott VanOtten
2018 Shan Lloyd
2019 Al Roberts
2020 Doug Liechty
2021 Doug Liechty
2022 Steve Raleigh
If you own a Mustang, dream about owning a Mustang, owned a Mustang in the past, or just love Mustangs, then this is the club for you. We are glad you stopped by. Feel free to explore our web site and check us out. If you have any questions, please contact us. If you decide to join us, information on becoming a member can be found here. Thank you for visiting.